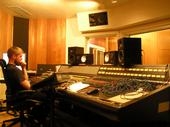 Ryan Massey
Owner / Studio Manager / Staff Engineer
Ryan has been playing and performing music almost his entire life. At age 6, he joined the San Francisco Boys Chorus, and spent the next five years singing and traveling the world.
Some highlights included performing with the San Francisco Opera, Mahler's 8th at the Hollywood Bowl, and recording at Fantasy Studios for Neil Young's "Landing on Water" album. Somewhere, things took a left turn and he ended up obsessed with rock and roll in general, and specifically, punk rock.
He played in typically awful high school bands, and ended up recording many of the local bands on a crappy Fostex 4 track (it could only record two tracks at a time!) After high school, he joined up with longtime friends Rory Henderson and John Peck and formed American Steel. The band has put out four albums, several EP's and toured constantly. In the middle of all that, they took a pop turn and released a host of new songs as Communiqué. Communiqué has one full length (Poison Arrows) and two EP's (A Crescent Honeymoon, Walk into the Light). They have toured the world with the likes of Tegan & Sara, My Chemical Romance, Taking Back Sunday; These Arms are Snakes, Minus the Bear, Sugarcult and more.
Between all the tours, Ryan has produced and engineered albums for many bands, including Desa, The Cost, The Criminals, Radio Noise, Ted Leo, Cipher in the Snow, Quest for Quintana Roo, and much of Communiqué and American Steel's output as well.
He continues to play with American Steel, runs Sharkbite, builds Lugosi Amplifiers and generally doesn't sleep.
<< Back to Staff